The followings are some of the hand-written testimonials I received in the past. Click here for the most recent testimonials that my clients left on my Yelp page.
Testimonial #14
This testimonial was sent by Colina Louise Jones-Dudek…
February 7, 2011
CAPT Johnie Lee,
On behalf of my late brother, I can never find the words to sincerely express my personal depth of gratitude. My brother had a very troubled life, but you both demonstrated an exceptional level of professionalism and your simple words of sorrow while executing flawlessly the burial ashes of my brother, FINALLY brought Peace to the Valley! How can one ever thank you for your kindness and thoughtfulness.
My sorrows; my hurt; my pain and uncertainties, you were able to bring a rainbow into my life. You are one very special individual that in such a dark and deep moment in my personal abyss of grief, you calmed the Seas. Your actions warrant the immediate meritorious Promotion to Admiral of the Fleet! because no one could EVER out rank your class or services!!!!!!!!!
I hope others will feel my words so that you can extend yourself once again with your very special and unique caring thus bringing PEACE TO THEIR VALLEY!
ON BEHALF of my beloved brother, Gordon Scott Maclean's family
I pen this 7 February 2011
Colina Louise Jones-Dudek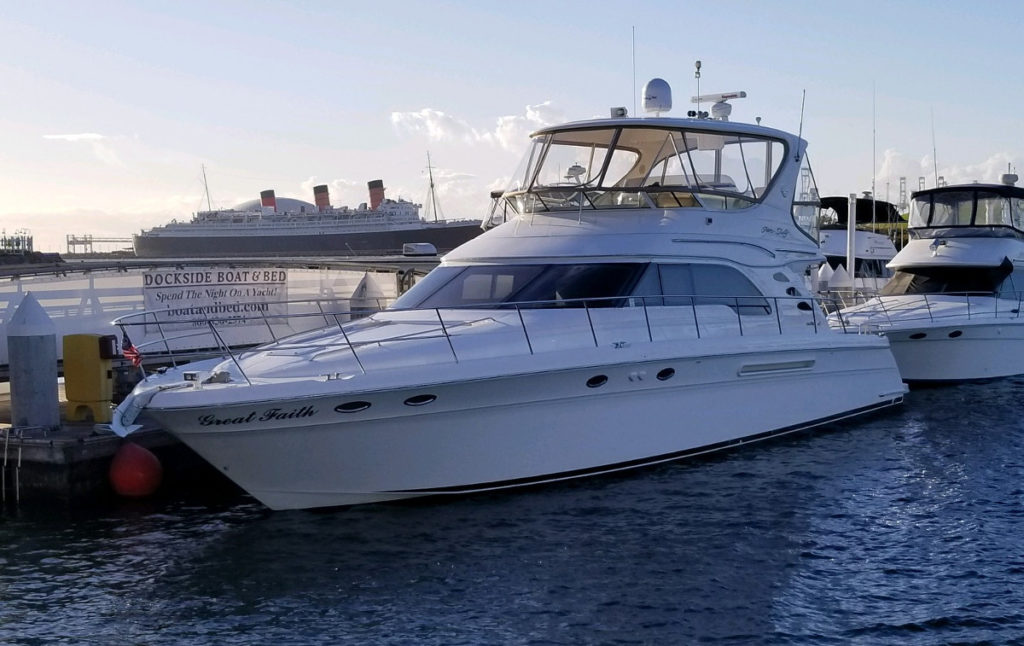 Testimonial #13
This testimonial was sent by Ernest & Diana Adame…
January 25, 2011
Dear Captain John: We were expecting such a difficult day to scatter the ashes of our 23 year old son, Andrew Michael Harris. Beforehand, you were so meticulous on informing us of what was to transpire and what we could expect. On the day of, you were prompt in meeting us. You looked so dignified in your uniform. The manner in which you treated us, with so much compassion for a grieving family, put us at ease. As we boarded 'Great Faith', and she is a beauty by the way, you explained everything and were very sensitive to our needs. You have great control of the vessel. At times what could have been choppy waters because of a crossing boat, you managed to keep her steady and calm. It turned out to be a beautiful day despite it being January and the middle of winter. Seeing your love of the sea and nature encouraged us to love God and nature more so too. Your prayer was awesome and reverent and gave us much comfort. Your gentleness with our sons ashes was respectful and gave our son a last bit of dignity that he deserved. You gave us our own private time to say our farewells. Thank you for everything!
Ernest & Diana Adame & Boys (Ernest Jr, Xavier, Sergio)
Testimonial #12
This testimonial started from an email message from Karina Isaac…
June 15, 2010
Dear Captain Johnnie,
It is with great gratitude that I write to you, as my family and I will never EVER forget the wonderful job you did for us. We honestly did not know what to expect, but you made everything so easy and a little less painful. We couldn't have asked for anything better. Without a doubt, I would gladly and highly recommend you to anyone, knowing that you will give them the great personal yet professional attention they need at that moment.
Have a wonderful day! And thanks again.
Sincerely, Karina Isaac.
Then I wrote back to Karina…
Thank you Karina, I really do appreciate your comments, it was a pleasure meeting and assisting you and your family. May I add your comments to my web site?
John
(310) 387-0587 Sent from my Verizon Wireless BlackBerry
And this was what Karina wrote back…
Of course you can! The testimonials that I read on your page was definately something that helped me to finally choose you. So if I can do the same for someone else, I'd be very happy!
-Karina Isaac-
Testimonial #11
This was a letter received from Halina Karbowniczek, wife of Tomasz Karbowniczek.
Feburary 14, 2009
Dear Captain Lee,
Thank You for beautiful burial at see for my husband today: Tomasz Karbowniczek.
Day was sunny, ocean was very calm and shiny. Petals of red roses looked very spectacular on deep blue clear water. Your prayer is much appreciated by me and I'm sure my husband too.
That moment stays in my memory to the end of my life!
Thank you once more Captain Johnnie Lee and I'll recommend your service to all my American and Polish friends and I'll also tell them how wanderful personality Man are You!
God bless you Captain Johnnie Lee,
With regard
Halina Karbowniczek
Testimonial #10
This was a letter received from Sandy Warf, daughter of James C. Warf, and sent to California Cremation Center. She forwarded her note to me, to their attention as well.
November 22, 2008
Hello, Bonnie, Eric and Gerard,
Thank you again for the way in which you handled my father's cremation.
Every contact I had with each of you was handled with competence and compassion. My family and I are very satisfied with our experience with California Cremation Centers.
We also had a wonderful experience because of your referral to Captain John Lee of Burials at Sea and I wanted to share with you the thank you note we sent him:
Dear Captain Lee,
The scattering of our father's ashes from your lovely vessel today far exceeded our expectations.
Yourmeticulous attention to detail, professionalism, and your quiet, respectful, supportive presence made our time of grieving and goodbye truly memorable.
I have ordered photos and will send some to you at your Hawthorne address when they arrive.
On behalf of our entire family, thank you,
Sandy and Curren Warf
Testimonial #9
This was a letter I received from Carol Biamonte and family, after taking them out to sea for her Mothers service.
November 4, 2007
Dear Captain Johnnie Lee,
Just a note to thank you for the beautiful memorial we had for Mom (Lois Lee). You did a wonderful job, considering the bad weather and the rocking of the boat. You kept control of the boat, and found a perfect spot for Moms ashes.
Your boat was immaculate, and you were too. Everything was done very professionally. We would recommend you anytime.
Again with appreciation and love.
Carol Biamonte, and family of Lois Lee
Testimonial #8
This was sent to me via email from Mrs. Mukta Patel for my handling of her late husband's ashes.
February 26, 2007
Dear John, I just want to tell you that you did a very nice ceremony and we all felt good. I felt that my husband's ashes were treated with love, care and reverence and a good prayer. I specially want to thank you again for the whole thing. It always takes me time to recover from the whole thing and so I could not write immediately. You will be highly recommended. Thanks again. Keep well, God bless.
Mukta (Mrs Patel)
Testimonial #7
Testimonials for non-witnessed burials are uncommon since there is so little contact with the family. However, the following note was sent by Elaine Feldman for my handling of the non-witnessed burial of her late husband.
February 19, 2007
The easiest way I know how to describe my experience with Captain John is to give a laundry list of adjectives to describe him.
He was: professional, quiet, unassuming, helpful, thoughtful, charming, considerate, empathic and efficient.
To sum it up, I am grateful to Captain John for helping to make a difficult experience more tolerable and less of a nightmare.
Thank you again, Captain John.
ELAINE OSBORNE FELDMAN
Testimonial #6
This letter was written by Richard Williams of Long Beach.
August 10, 2006
Capt. Lee,
This letter is to acknowledge the receipt of our copy of the Application and Permit for Disposition of Human Remains of Mr. James Frederic Winter, whose remains were scattered on July 23, 2006.
In addition, I would like to express, on behalf of all those who were present, our appreciation for the manner in which this task was carried out. Your expert handling of the vessel, attention to our safety, and providing for our personal comfort, allowed us to focus and reflect on our reason for being there.
I have also included a token of our appreciation for your concern for us.
Thank you again, Johnnie, for your services.
Sincerely,
Richard T. Williams
Executor
Testimonial #5
November 23, 2005
Capt. Johnnie,
Thank you so much for your help in scattering my mother's ashes at sea. It was a beautiful day as was your prayer. My mother would approve, and does from a better place. May God bless you and your boat. May all your travels be pleasant.
Alan Webster
Testimonial #4
July 12, 2005
Dear Capt. John,
Thank you so very much for the beautiful last tribute that you helped me give to my husband. It was perfect in every way. It was such a comfort to know that it was EXACTLY what Dean would have wanted. Your prayer was beautiful and I do thank you for sending a copy on to me.
Again, thank you for easing what could have been a painful experience.
Sincerely,
Katherine Ross
Testimonial #3
January 30, 2005
John,
I cannot begin to tell you how pleased we were. The entire process was beautiful. You handled everything with exceptional benevolence and professionality. Thank you for making the day of sorrow one of nice memories.
Sharon
Testimonial #2
This letter was written to Ms. Kimberly Stricklin of Stricklin/Snively Mortuary, Long Beach, CA by Peter Kohl of Hemet, CA:
November 6, 2004
Dear Ms. Stricklin,
Thank you all at Stricklin/Snively for your kindness to me and my StepFather Bob Baker during our period of mourning on the passing of "our gal" Janet Baldwin Baker!
Mom wanted "a very private ending with total privacy," but my StepFather allowed me to fulfill a personal wish to be with Mom as long as possible….to be aboard the ship that took her out to sea!
I did this today, and would like you to know how very very nicely Captain Johnnie Lee handled the trip – I could not have asked for anything nicer for my Mom or me, or my StepDad. Believe me, my Mom would have been very proud and pleased with how Captain Lee handled everything with such dignity and kindness!
It is my personal pleasure to extend these sentiments to you.
Sincerely yours,
G. Peter Kohl,
Hemet, CA
Testimonial #1
The following letter was written by my past client, Carol Sutow, to Mr. Phillip White of White-Emerson Mortuary, Whittier, CA, who referred my service:
September 11, 2004
Dear Mr. White,
I just wanted to write and thank you and your staff for recommending Captain Johnnie Lee for my father's burial at sea.
Captain Lee was punctual, reliable, personable, considerate and respective of the cremains of my dad, and his beloved pets. He is an excellent captain and he made me feel safe on the ocean. He made a difficult experience peaceful.
Thank you again,
Sincerely,
Carol Sutow